House and Garden Tour

PLEASE JOIN US ON JUNE 24 FOR A SPECIAL HOUSE & GARDEN TOUR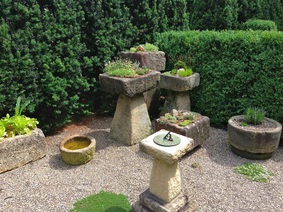 The Newtown Historical Society is going a different route for this year's House & Garden Tour. Instead of having ticket holders drive to multiple locations to view homes and/or gardens, we are inviting the public to join us at the Benjamin Curtiss property in Sandy Hook owned by Lincoln and Jean Sander. You can tour the house and beautiful gardens, partake in refreshments and hors d'oeuvres, and enjoy the company of friends. The event will take place on Sunday, June 24th from 1:00 pm to 5:00 pm.
In addition to the tour, we will formally introduce The Dan Cruson Scholarship Fund, which will award a high schooler planning to study history or a related field in college. Remarks about Cruson and this new scholarship will be made at 3:00 pm. Fundraising through this year's tour will be in part for the scholarship, and additional contributions will also help with ongoing work for building repairs.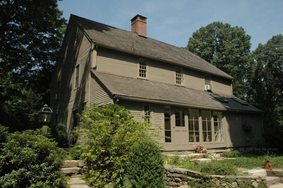 The House: The 1748 home and garden of Jean and Lincoln Sander date back to one of Newtown's founding fathers, Benjamin Curtiss. He was the uncle of Matthew Curtiss, whose former home at 44 Main Street serves as headquarters for the Newtown Historical Society. Benjamin was one of three men to petition the General Assembly in October 1761 to establish the Stratford-Newtown town line, according to Ezra Levan Johnson's History of Newtown, Conn (1917).
This home is a Connecticut classic colonial with center chimney. Its three stories and high ceilings, spacious rooms, and beautifully crafted woodwork all reflect the status of the original owner. Docents will be on hand to answer questions about the home and its contents, which include an amazing collection of 18th Century antiques.
The Garden: Jean Sander, a member of the Garden Conservancy, has spent numerous years perfecting this garden, which brings new sights every day in summer. The property now features several stone walls, including one that measures 325 feet in length. It also highlights a formal English garden adjacent to the back of the house surrounded by a huge Taxus hedge.
The main room of Jean Sander's English garden is what she calls her "troughery," or a room filled with troughs dating from the 18th and 19th Centuries. Many have been filled with plantings, including an antique planter coupled with a set of seven 19th Century stones out of an estate in Maine.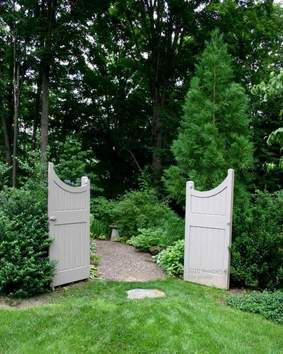 There is also a woodland walk, which overlooks the confluence of the Pootatuck River and Lake Zoar. At least two dozen native and ornamental trees had been planted along its length by 2015. Shrubs and a small woodland garden accent the walk, as does an oversized birdhouse commissioned by the Sanders that replicates an antique birdhouse owned by some friends. The 17th Century corn cob structure is now off a woodland pathway that runs along the northern edge of the property.
The Event: The tour will take place rain or shine. Donation for each ticket is $25.00 prior to June 24 and $30.00 the day of the event. Most of the pre-ordered tickets will be sent through the mail. Tickets ordered close to and on the day of the tour can be picked up at Lincoln Sander's house. Tickets will be on sale at the C.H. Booth Library, Queen Street Gifts & Treats, or directly from Lincoln Sanders by calling him at 203-364-1833 or sending payment to:
Lincoln Senders
211 Walnut Tree Hill Road
Newtown, CT 06470
You can also order tickets by clicking the button below:
Tickets include wine and hors d'oeuvres and a one-year membership to the NHS. Tents will provide shade and protection from the rain. For more information, call Gordon Williams at 203-405-392 or Lincoln Sander at 203-364-1833.