House and Garden Tour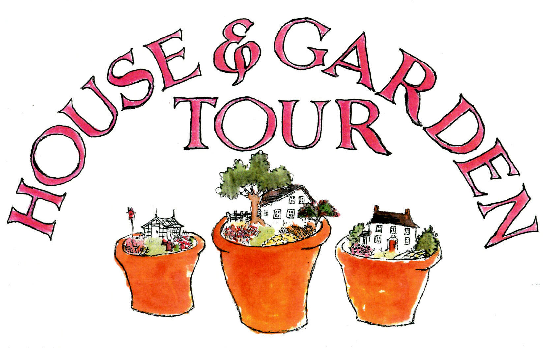 Sunday, June 25th
11 AM - 5 PM * Rain or Shine
Advance Tickets $25, $10 Child
C.H. Booth Library * The UPS Store * Toy Tree
Day of Tour Tickets $30 Adult, $15 Child
Only at the Matthew Curtiss House Museum 10 AM - 2 PM
(203)426-5937 or www.newtownhistory.org
www.facebook.com/newtownhistoricalsociety
Buy Your Tickets Here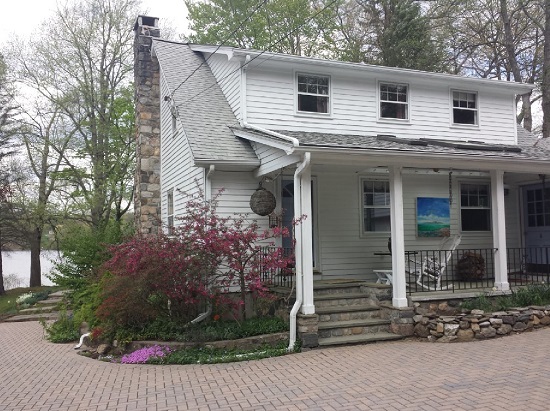 Photo By: Pat Barkman
Pat Barkman, 49 Taunton Lake Road, Newtown
This 1955 Taunton Lake home of artist and writer Pat Barkman is a step back in time. Pat has lovingly created a unique space where she can be inspired and do all the things she loves--from art to gardening. Filled with mid-century details and Pat's creative touches, it is hard for anyone not to be inspired. Pat, an avid organic gardener, opens her studio and garden annually for guests to enjoy.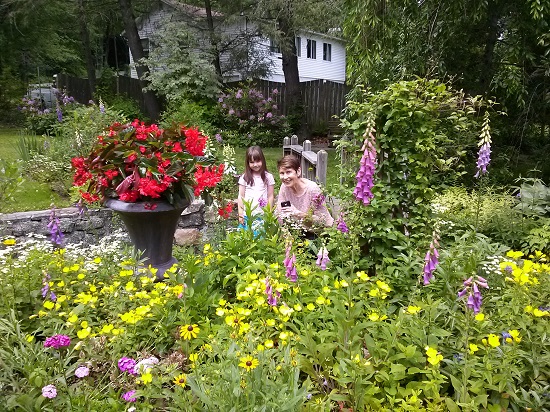 Photo By: Pat Barkman
Garden:
This country home includes a picturesque art gallery that is surrounded by flowers in all three growing seasons. From the gallery and most windows of the house, Pat can easily view the winding stream as it cuts through the entire width of the property and rushes toward the lake--providing a year-round paintable picture. Pat, who has enjoyed this garden for over 20 years and personally doing 90% of the work, describes it as "an artist's dream."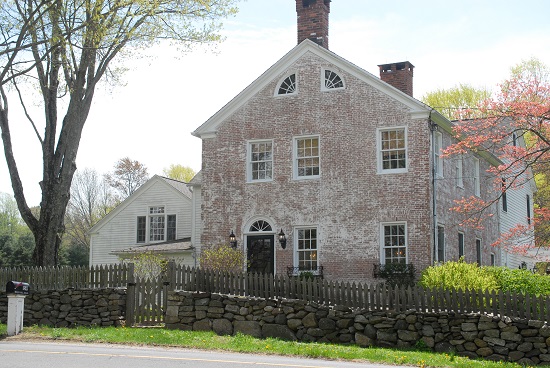 Photo By: Jean H. Mathurin
William and Erica Barber, 159 Boggs Hill Road, Newtown
Built in 1783, the Barber home is a stunning example of Federal-style architecture. The original part of the house is brick, which is a bit unusual for this area, and a 2001 addition seamlessly highlights wide-open spaces and modern conveniences. Situated on two acres dotted with lush gardens and a charming stone wall, guests will instantly be transported back to early Newtown.
Garden:
For the Barbers, the growing season begins in April when the peonies, camassia and daffodils emerge along the edges of the wetlands, followed by the many varieties of hostas--divided from specimens lovingly given by a dear, late friend. As the days warm up, the borders along the intensely sunny back walkway ignite with blue nepeta, salvia, ladybells, and lavender accented by the lime glow of spirea and silver carpet that basks at the feet of old roses beyond. Birds nest in the pergola-hugging clematis overlooking a stone-stepped bank of flowing lilacs, hydrangea, sea swells iris and sedum autumn joy succulents. Summer brings daylilies and shasta daisies along the side of the house. And, as summer wanes, the coolness of the garden beneath the towering maple beckons as moss grows on stone-cast mushrooms. This lovely and well-loved yard, almost completely surrounded by a stone wall, is an ideal setting for their family of three high-energy boys and three high-spirited dogs.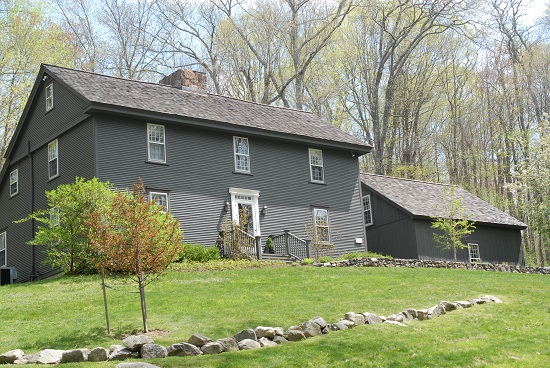 Photo By: Jean H. Mathurin
Jim and Jen, 61 Brushy Hill Road, Newtown
This circa 1738 quintessential saltbox stands so stately on a hill that it appears as if it has always been there. However, that is not the case. The home was originally located in what is now Middletown, and in 1990 it was painstakingly dismantled and reconstructed here in Newtown. Chestnut floors, hand-hewn beams and a seven-foot fireplace with a working beehive oven are just a few of the original features in this beautiful antique home.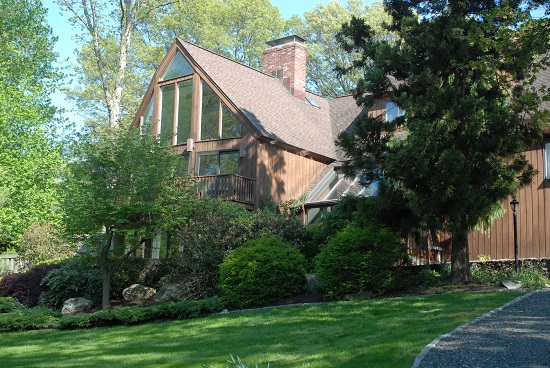 Photo By: Jean H. Mathurin
Dr. Lionel and Margareta Brown, 19 Shepard Hill Road, Newtown
This custom-built contemporary is the definition of a family home. Completed in 1978 by the Browns, the eclectic interior is filled with unique Swedish antiques, furniture built by the couple's son, and special designs by their daughter. The light-filled home sits on six acres featuring landscaped and natural spaces.
Garden:
The Browns' home has been landscaped from dense woods practically to perfection over the last 40 years. This property, which is described as an "all-season yard," can more accurately be called a park. It evolved through the years based on their family's needs: It added a delightful pool and waterfall as their children grew, was a perfect setting for their daughter's wedding, and later provided an ideal place to show off their son's creative stone and metal sculptures. Now, it is the favorite playground for the grandkids, complete with a winter sledding trail. It doesn't take long to realize how both Margareta and Lionel are equally knowledgeable, enthusiastic, dedicated and proud of their efforts.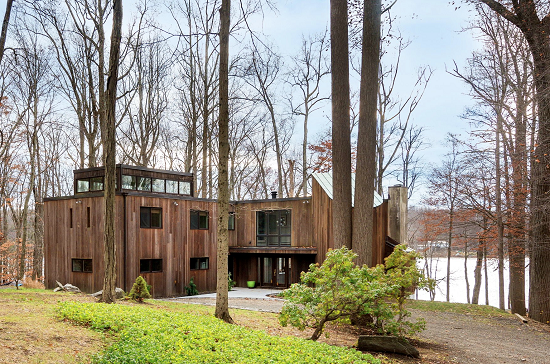 Photo By: Daniel Milstein
Ben and Kirstin Pilchard, 53 Mount Pleasant Road, Newtown
Stunning views of Taunton Lake are featured in every room of this 1972 contemporary. It is the perfect home for year-round entertaining with its open floor plan. The incredible wall of windows is awe inspiring. Keep your eyes open for the majestic bald eagles flying over the lake--if you can pull yourself away from the view, You are sure to notice that the vintage furniture and original artwork by the homeowner and local artists create a cool, casual interior. The home blends impeccably into the lakefront property. This home could yours, as it is currently on the market.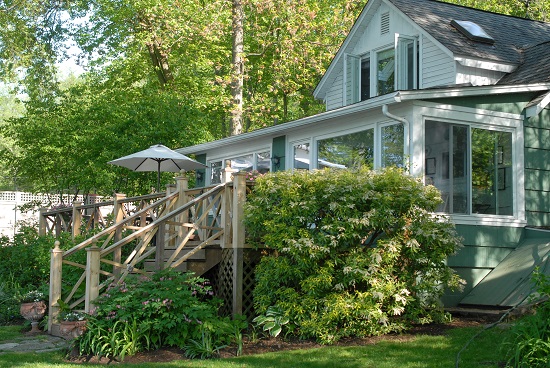 Photo By: Jean H. Mathurin
David and Susan Rosen, 43 Taunton Lake Road, Newtown
The 1916 lakeside cottage, Foxglove, belonging to David and Susan Rosen, is a picture-perfect retreat. This Taunton Lake house blends harmoniously with its surroundings to create a sense of calm where one can truly appreciate the beauty of nature and all of its wonders. It is easy to see how this enchanting home inspires Susan to create whimsical and provocative paintings under her artist's name, Susan McLaughlin.
Garden:
Once exiting the Rosen's home, you can't help but notice the lush growth of pachysandra that border the stone paths and the climbing hydrandea that completely cover the stone chimney from the ground all the way to the roof. Paper-bark birch trees greet you on your right with their unique scraggly look. As you follow the stone paths toward the lake, there's a wide variety of perennials in the gardens around the house, cared for by Susan during the six months that she and David live in Connecticut each year. The house provides a therapeutic and tranquil respite against the pressures of the world. It is nestled close to Taunton Lake, privately set and barely visible from the road, and surrounded by stone paths that take you everywhere they want or nowhere at all. Rose trees, clematis, sargent cherry, and a huge hickory nut tree all play their role in simply making you want to sit, relax and unwind.
Garden--Maureen Rohmer, 27 Main Street, Newtown
This wonderful 1787 home has been thoughtfully renovated to retain its authenticity. It has been able to keep its stately presence although nestled between the larger properties of the Dana Holcomb House and Cyrenius H. Booth Library. Much more surprising, though, is the spacious back lawn, lovely three-season gardens, renovated barn and prevailing scent of lavender and poppies that greet you when you enter. Maureen has graciously opened her gardens for the tour where the wealth of perennials, interesting shrubs and climbing plants will test your gardening knowledge, to be sure.
Garden--Dr. Jeffrey and Nancy Metzger, 9 Sweet Meadow Road, Newtown
The Metzgers built their colonial home about 22 years ago and have been thoughtfully landscaping their three-acre property ever since. Jeff is a knowledgeable do-it-yourselfer who constructed his own stone walls and deck planters and can name each and every plant, shrub, tree, ground-cover and flower on the property. The result of his efforts, described by him as a "labor of love," as well as Nancy's skillful direction, offer a cohesive blend of types, textures, shapes and sizes that also feature color for all three growing seasons. While strolling through Jeff and Nancy's yard and gardens, you will experience a pleasing, neat, and casual country setting that will add new ideas and enthusiasm to your gardening spirit - - and a smile to your face.