BE A PART OF HISTORY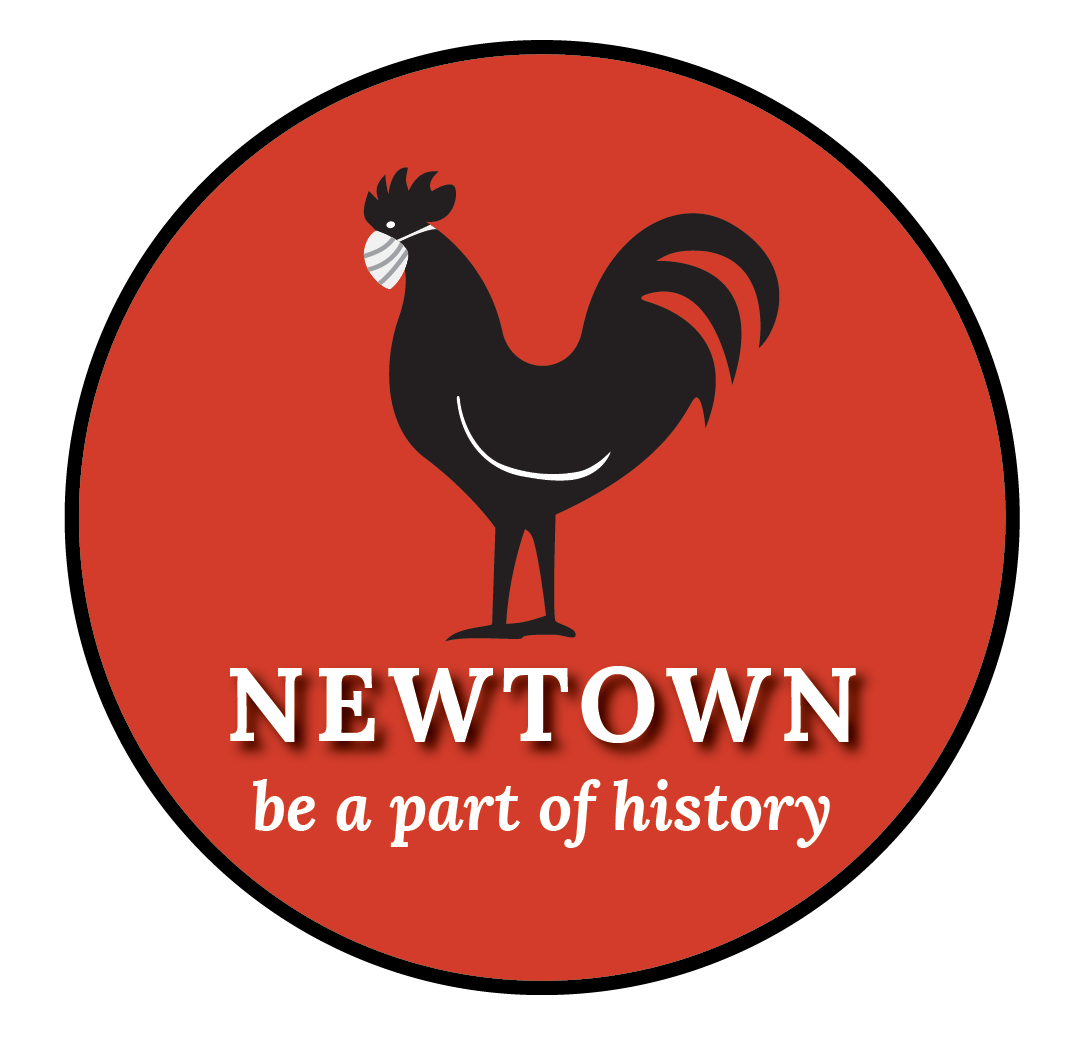 The Newtown Historical Society invites you to participate in creating a historical record of Newtown's local experience dealing with the COVID-19 global pandemic. Your contributions will be archived with those of other Newtowners and accessed in the future by scholars, townspeople, students and others who study and look back on this historic time in our modern life.
We have all been touched by COVID-19 in very different and personal ways. Children and parents, seniors and students, merchants, highly educated professionals...all creatively finding new ways to work and play safely. Every kind of individual and family has been forced to adopt new habits almost overnight.
Select the link below and enter your observations on the form that will appear. Don't be concerned about style or grammar because the facts are what matter.
Upcoming Events

Outdoor Tag Sale
May 22nd, 2021
Raindate: May 29th
10:00 - 3:00 PM
Matthew Curtiss House Museum
44 Main Street, Newtown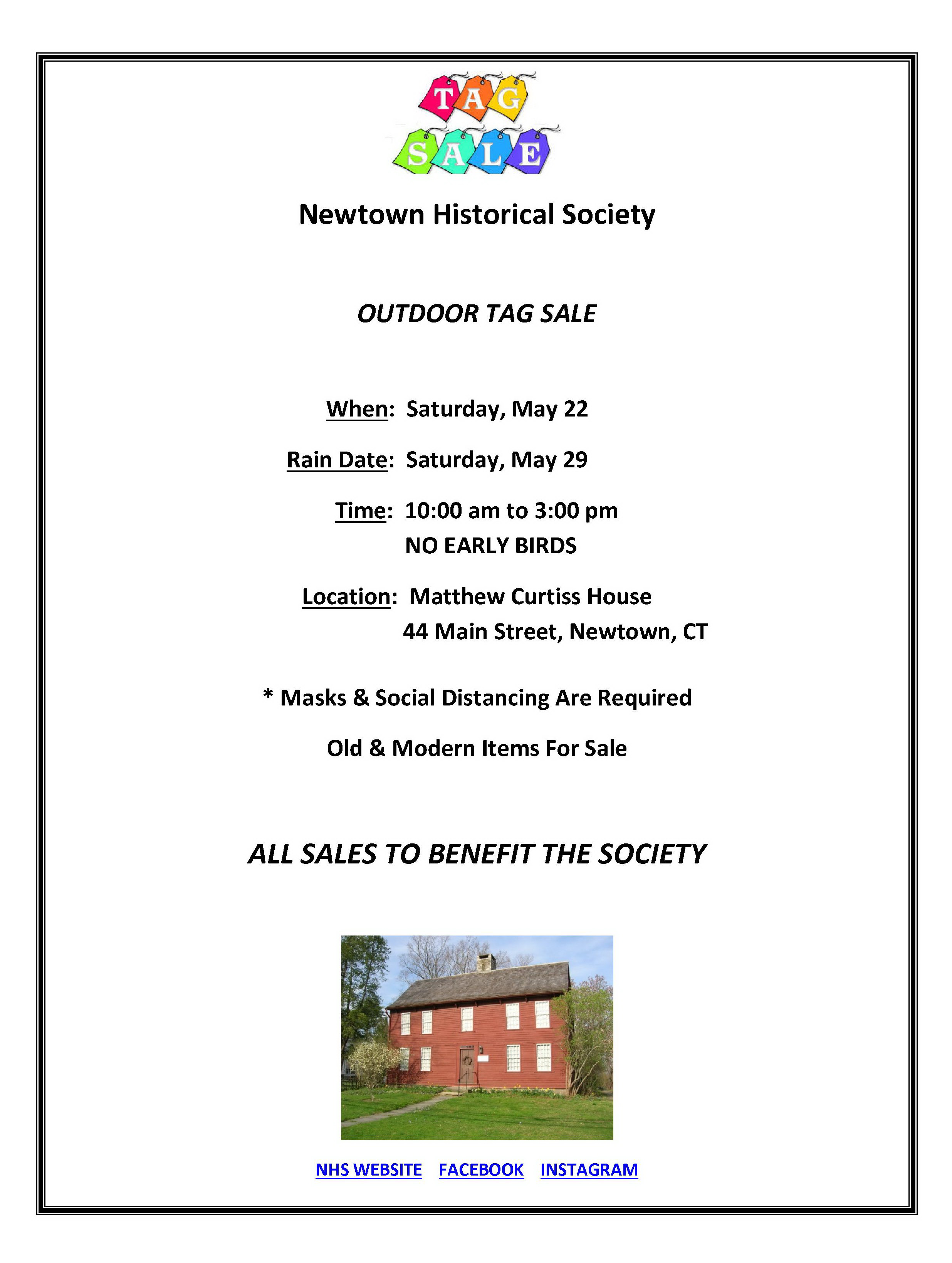 NO EARLY BIRDS
Old & Modern Items for Sale
All Sales to Benefit the Society
Masks & Social Distancing Are Required
Thank you for your understanding.
Open House & Beekeeping Demo
May 23rd, 2021
12:00 - 4:00 PM
Matthew Curtiss House Museum
44 Main Street, Newtown
In this Matthew Curtiss House Museum open house and demonstration Bee Commerce owner, Leslie Huston, will talk all about beekeeping history and how it plays a role in today's world. Leslie will have a skep and other accoutrements, past and present. As well as an observation hive with live bees enclosed in a glass-sided mini-hive. Come learn what the buzz is all about!
Bee-Commerce's goal is to bring helpful guidance and top-quality equipment to the hobbyist and back-yard beekeeper. Visit them online at https://www.bee-commerce.com/ or in-person 160A Sugar st. in Newtown.
NOTICE: We are working hard to make sure our open houses and demonstrations are a safe place for our volunteers and visitors. Follow us to make sure you are notified of any changes that might be necessary, and note the following:
Masks must be worn at all times
All tours will be guided tours
As a limited number of visitors are able to be in the house at any given time, we may need to ask you to wait outside until space frees up.
Even if a demonstration is held outside, we do still ask that you remain 6 feet from other visitors and wear your mask.
Thank you for your understanding.
Summer History Week
July 12th - 16th, 2021
9:00 am - 12:00 pm
(1 Session)
Matthew Curtiss House Museum
44 Main Street, Newtown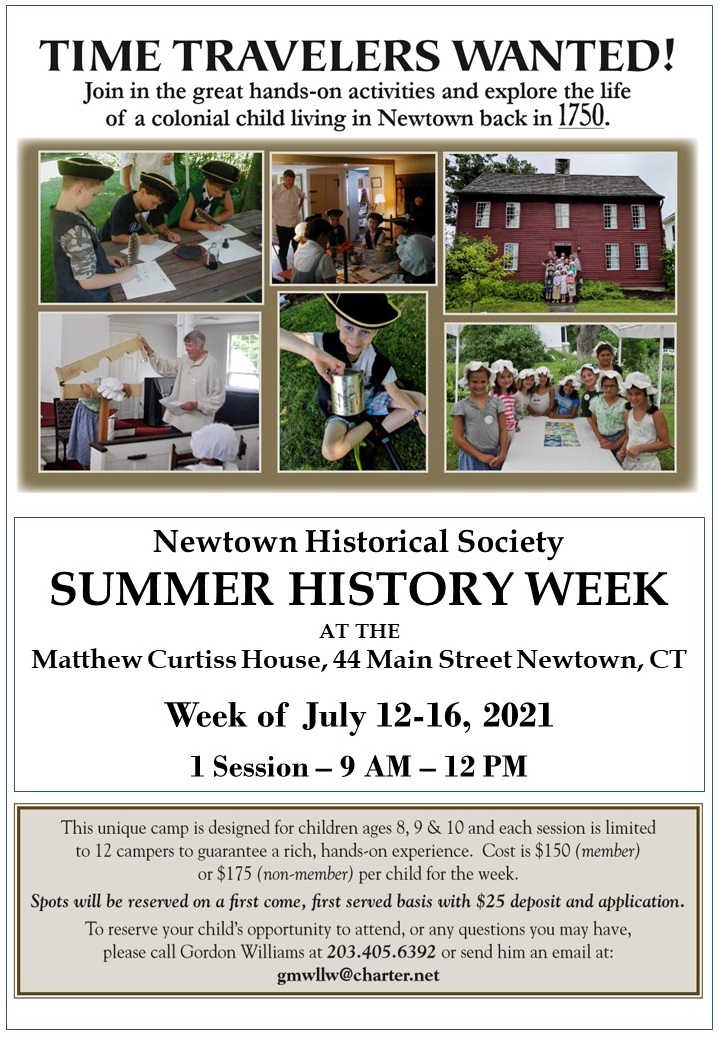 This unique camp is designed for children ages 8, 9 & 10 and is limited to 12 campers to guarantee a rich, hands-on experience. Cost is $150 for members and $175 for non-members. Please contact Gordon Williams for further information or to register at 203-405-6392.