Ghost Walk & Candlelight Tour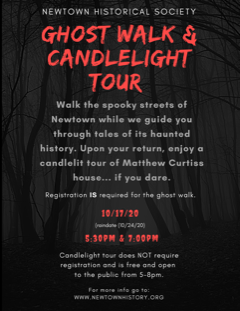 Ghost Walk & Candlelight Tour
Registration is required for the ghost tour.
Find your ticket here:https://www.eventbrite.com/o/newtown-historical-society-31201954413
Route:
Starting at the Newtown Historical Society (44 Main st. Newtown, CT 06470) we will be walking up to Hanover rd. and then down Main st. looping back at Sugar st. and ending back at Newtown Historical Society (total distance 1.25mi) We will be stopping along the way to talk and share some haunted history.
This is a socially distanced event. Although we will be outside, we please ask that you wear a mask throughout the walk to ensure the safety of our community.
*The candlelight tour of Newtown Historical Society's, Matthew Curtiss House, does not require registration and will be running from 5-8pm.
Meet your guide- Lori Haggerty:
Lori is a Reiki and Shamanic Healer who has been "in tune" with spirits and energy from a very young age. Trying to understand her own abilities, she studied paranormal happenings as well as ESP and psychic abilities. She owns River's Edge Healing Center in Sandy Hook where she connects with people's energy daily (living and non- living!). At River's Edge, she works with many psychics and mediums to help people heal emotionally and physically from traumas and stressors of everyday life.
RAIN DATE: 10/24
TOUR TIMES: 5:30PM & 7PM (1 HOUR)
PRICE: ADULT $20 / KIDS (UNDER 12) $10
NHS MEMBER ADULT $18/ NHS MEMBER KID (UNDER 12) $8
BECOME A MEMBER HERE: http://www.newtownhistory.org/membership.shtml
*ALL PROCEEDS BENEFIT THE NEWTOWN HISTORICAL SOCIETY AND THE MAINTENANCE OF THE MATTHEW CURTISS HOUSE*